Works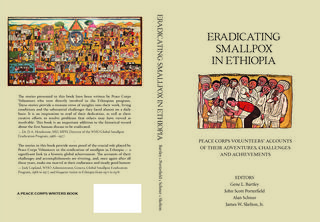 ERADICATING SMALLPOX IN ETHIOPIA: PEACE CORPS VOLUNTEERS' ACCOUNTS OF THEIR ADVENTURES, CHALLENGES AND ACHIEVEMENTS
Editors: James W. Skelton, Jr., Gene L. Bartley, John Scott Porterfield, Alan Schnur

This is a fascinating anthology that contains a treasure trove of amazing stories written by Peace Corps Volunteers (PCVs) who worked in the Smallpox Eradication Program (SEP) in Ethiopia. It's the winner of the 2020 Moritz Thomsen Peace Corps Experience Award, and is available on Amazon in paperback and eBook formats.
The book contains an wide variety of unique and insightful stories about the experiences of the PCVs who worked in the SEP in Ethiopia between 1970 and 1975. There are 21 chapters, written by 15 former PCVs, Dr. D. A. Henderson, the Director of the World Health Organization's global smallpox eradication campaign, and Dr. Ciro de Quadros, the WHO Epidemiologist in charge of field operations in Ethiopia. All of the stories provide an insider's view of the personal, practical and technical aspects of the work. The PCVs' stories include vivid, first-hand descriptions of the extremely difficult living and working conditions in Ethiopia. Many of the authors also include stories about the inspired leadership of Drs. de Quadros and Dr. Henderson.This book will be of interest to anyone who is curious about this historic achievement, as well as those working in the fields of public health, history, infectious diseases and sociology.

This is a story of a young man who is trying to find himself through volunteer service in a far away land. He finds friends and purpose through the Peace Corps and his work with the Smallpox Eradication Program. He learns much from his Ethiopian hosts, especially while coaching the YMCA basketball team.
Provides insights into the problems that are encountered in developing countries, such as corruption, human rights abuses, regulatory expropriation, uncertain property rights, and poor dispute resolution and law enforcement mechanisms. Includes a series of problems derived from practice, cases and analysis of legislation and regulations, applications of practice techniques and negotiating skills.